OCTOBEER FORTUNES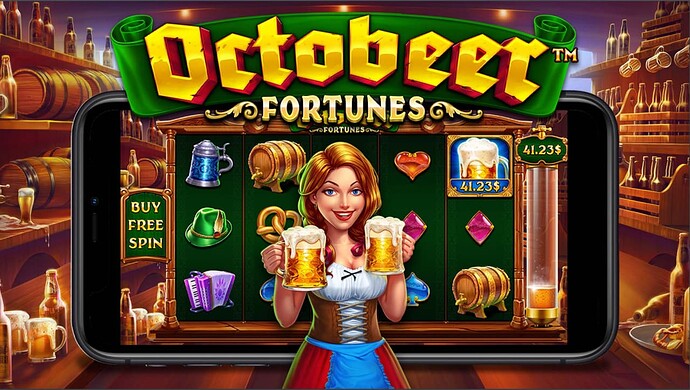 Game Description (Player)
Guten Tag from Oktoberfest is full of huge winning potential.
Octobeer Fortunes™ is played with 5×3 reels and 20 fixed paylines, and this is home to a collectible feature that awards players instant cash prizes in the base game. This is enhanced by the free spins round, which funnels all the instant cash prizes into the overall bonus. Offering huge winnings of up to 4,500x, players will enjoy pretzels and beer mugs throughout the festive season!
Theme:
October Fest
Player Demographic:
All
Player Skill Level:
All
Reels:
5
Symbols:
13
Paylines:
20
Progressive:
No
Wild Symbol:
Yes
Paid Scatter:
No
Free Spins feature:
Yes
Game ID:
vs20trsbox
Default RTP:
96.53%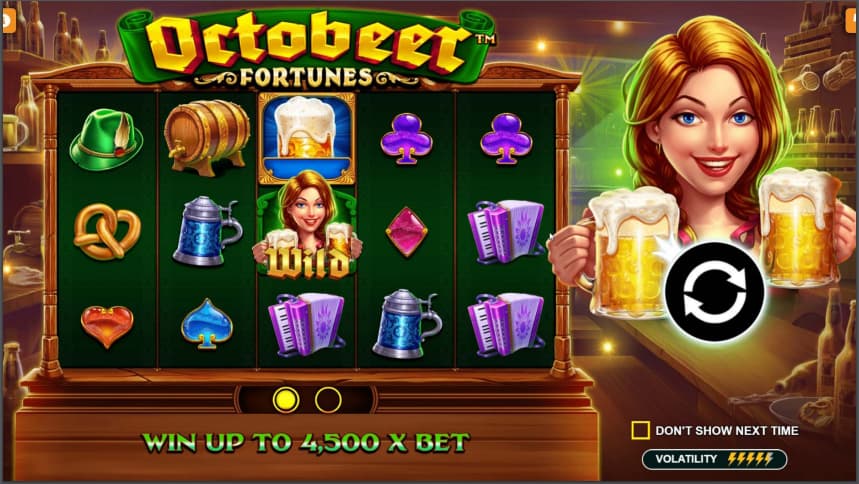 Free Spins Feature
Tap 5 or more money symbols to trigger free
rotate
Round starts with 9 free spins
The value of all money before the round starts
The symbols that trigger the round are added together
and collect as starting value
progressive features
Free spins round with progressive features
During the round, the value of all currency symbols
Collect this hit and every Wild that hits
Rewards the value currently collected during the round
Free spin rounds cannot be retriggered
Special scrolls come into play during the feature
MAX WIN
The maximum win is limited to 4500 times the bet.
If the total win of the free spins round reaches 4500x
The betting round ends immediately, winning and
All remaining free spins will be forfeited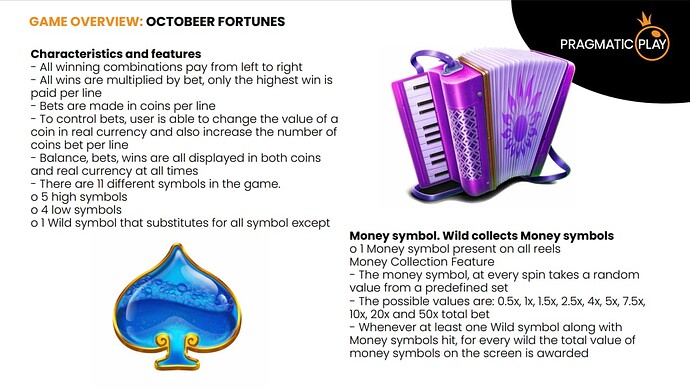 Buy Free Spins
Free spins rounds can be triggered instantly
buy the base game
12 different options to buy free spins
round:
Buy 9 FS with random numbers 150x total bet
Random currency symbol from 5 to 15
monetary value
Buy 9 FS 100x total bet, 5 starting capital
symbols with random currency values
Buy 9 FS 110x total bet, 6 starting capital
symbols with random currency values
Buy 9 FS with 7 starting funds for 120x total stake
symbols with random currency values
Buy 9 FS 130x total bet, 8 starting capital
symbols with random currency values
Buy 9 FS with 9 starting funds for 140x total stake
symbols with random currency values
Buy 9 FS with 10 starting funds, 150x total stake
symbols with random currency values
Buy 9 FS with 11 starting funds, 160x total stake
symbols with random currency values
Buy 9 FS for 170x total stake with 12 starting funds
symbols with random currency values
Buy 9 FS with 13 starting funds, 180x total stake
symbols with random currency values
Buy 9 FS with 14 starting funds, 190x total stake
symbols with random currency values
Buy 9 FS 200x total bet, 15 starting capital
symbols with random currency values